1 Timothy 6:18-19 – Instruct them to do good, to be rich in good works, to be generous and ready to share, storing up for themselves the treasure of a good foundation for the future, so that they may take hold of that which is life indeed.
About Midwest Covenant Home Foundation:
Created in 2013, the Midwest Covenant Home Foundation, focuses on supporting the greater mission of Midwest Covenant home 'to provide a Christian living environment in which residents are able to live with dignity while receiving quality care.' 
Through charitable donations and gracious donors the future generations to be served through Midwest Covenant Home's Complete Care Continuum is limitless.  The Capital Campaign is the perfect way to leave your legacy – what's your investment for the future? For more information, contact our Foundation Coordinator, Erin Dickey by calling 402-764-2252.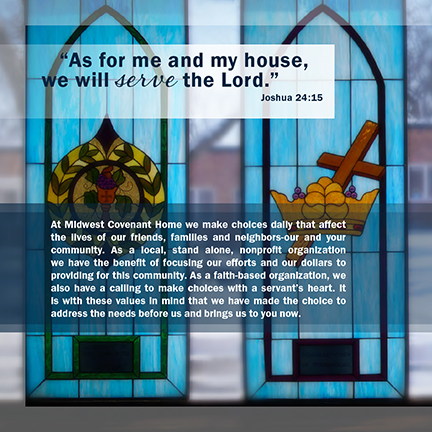 Midwest Covenant Home Foundation Staff:
Sheila Bjerrum
CEO/Administrator of
Midwest Covenant Home
Midwest Covenant Home has been faithfully serving Stromsburg and the surrounding communities for nearly 75 years.  With our roots in the Evangelical Covenant Church, Midwest Covenant Home demonstrates the love of Christ as we care for those who are unable to care for themselves. Quickly becoming the largest employer in all of Polk County, Midwest Covenant Home has developed a strong heritage of quality care of elders. Compassionate care in a Christian living environment allow our elders to "Age in Place" through our continuum of care.  This continuum includes home health care, community senior services with home delivered meals, independent living, assisted living and skilled nursing home care all under one roof.  Our effort to be on the cutting edge of senior care was the impetus to our recent renovation to create private living spaces including larger rooms with private bathrooms and updated homelike features.  We want to continue to serve our area for another 75 years through a partnership with those who share our vision of elder care based on the principles of servanthood modeled by Jesus Christ in John 15:12 'Love others as I have loved you.'
Cathy Johnson
Capital Campaign Steering
Committee Chairperson
"Midwest Covenant Home exemplifies midwestern values of warmth, honor and community that speak so powerfully to each of us, and I have been proud to serve for such a pillar of Stromsburg, Polk County and the surrounding area.  I have friends and family for which Midwest Covenant Home is their home and it is such a comfort to see strong Christian values in place, providing care, comfort and dignity to residents and their families."